We took another trip up to see the townhome Saturday, and it sure has changed. Last week I didn't post any photos, because the only changes were the addition of the sidewalks and driveways, garage doors, and putting all of our doors stacked in the living room. Here they are: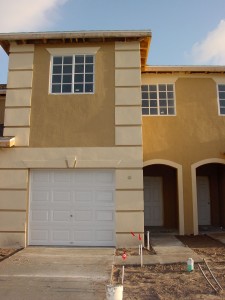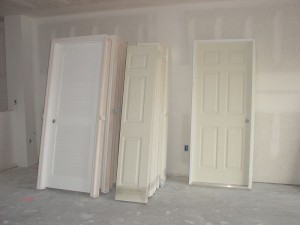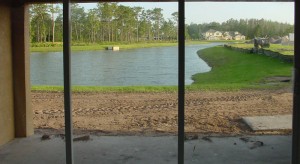 This week, as we pulled up, we were immediately struck by the presence of a palm tree in our front yard. No, the palm tree didn't strike us, but we were stricken… anyway… As we walked into the garage, the paint sort of had a paint bomb feel, like they popped a canister in there and ran for cover. It sure makes a difference, that's for sure.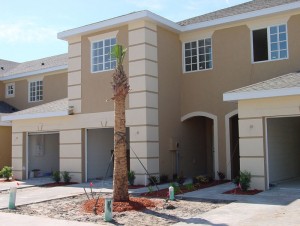 The kitchen! What can I say? It looks great, and the cabinets aren't even done. Now we know what it will feel like to stand in the middle of our own kitchen, though, and that was fantastic.

Making our way upstairs, the painting had clearly been done throughout the house and the rest of the doors were in place, except the linen closet in the hallway. Maybe that one will be "special." The master bedroom had all the paint done and then we were surprised by tile in the shower and the bathroom cabinets and countertop.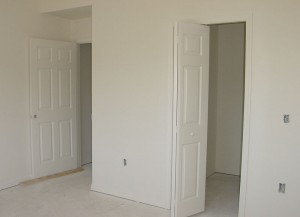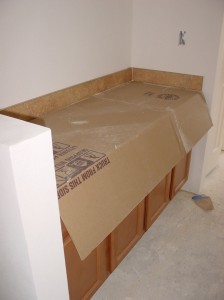 And the same goes for the second bathroom: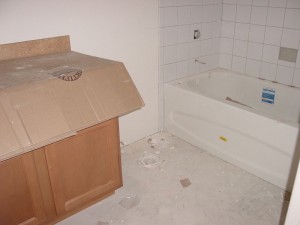 The bedrooms look so much more like rooms rather than caves with a coat of paint, baseboards, and doors, don't you think?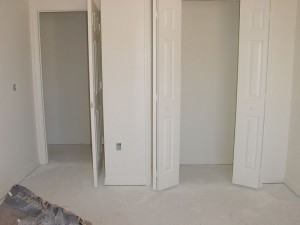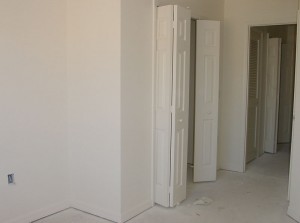 When I got back out to the car, I was thinking that you might want to see what the street looks like to know what everything will look like in 2 months, so here is the opposite side of the street facing West: