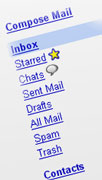 How do you tame Gmail when it gets too unruly to manage your affairs? I just did a cursory check of my first 100 messages in my Inbox and found 15 stars (cool), 12 unread (important) messages, and a total of 112 messages and rising. I have 37 labels and 12 filters.
I'm drowning… so it was time for drastic measures:
I removed all my labels and let all the messages sit in the inbox and archive.
Then I went through the inbox and archived every single piece of mail that did not require immediate action or that I was not done looking at or using.
I starred every message that needed further action, such as uploading an image to a website or calling someone.
I made a few labels that included _ACTION, _HOLD, and _Look at.
Since we are moving and our ISP is not available at our new home, I am filtering every e-mail that has one of those addresses and labeling it so I can contact those parties or change my contact information on those sites.
Besides those steps, I am not sure what to do as far as my everyday system. I keep every message that isn't a post or reply notification, bill reminder, or a subscription message that is read once and discarded. Space isn't an issue, but volume is. I know this isn't much for some, but I have kept over 4,800 messages in my archives since March of 2006.
Searching for things is fine, but losing track of things is not fine at all.
This has been my attempt at getting a system going, and I'd love to hear what system you use.