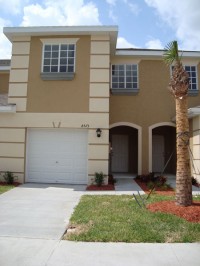 Since I went to Chicago last weekend for the world's greatest online publishing conference, we didn't get a chance to go up and look at the house. Add that to the stepped up timeline, and a whole heck of a lot has happened since our last update. Just take a look at that street view now.
There was a lot to be impressed with and a lot to shake our heads at and wonder what kind of stuff would go on if we didn't check up on things. The photos will be evident enough, but there's more than what I am putting up because I didn't want this to all be about what is wrong, but to also celebrate how stinking cool this is! We've only been married for 18 months and we're getting a brand-spanking new house! Yeah, the Dude is pumped. Don't bring the Monk down. I'll be working for the Man for a while now… when will these silly sayings end?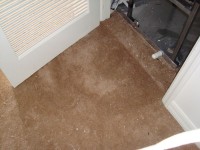 Let's get a couple of construction complaints out of the way so you know what to keep an eye on when your house is being built. My first concern is the wet carpet upstairs. Apparently, the carpet-layers decided it would look good to bring the carpet into the HVAC closet all the way up to the drip pan. Hello? Can you say "sponge?" I can; so can the carpet and padding. When I told the sales office about the carpet when we returned the key, she asked if the carpet went to the drip pan. It was like it's happened before… hmmmm.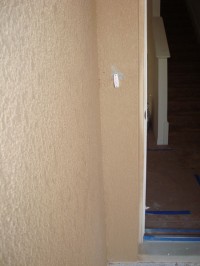 For some reason, they couldn't align the doorbell right. It would be really nice if they replace it with one a little bigger now so we don't have a visible hole next to it. It's a cheap plastic one, anyway, and will probably be one of our few personal touches that we want to do ourselves.
The rest of the photos are just plain cool or nice updates to the interior. We went to Lowe's today to look at dining room lights and found a couple of nice options, just so we have some idea of how much they cost, because we really don't want the stock model. 🙂 Look at that light below to see why. We haven't even begun thinking about paint… well one of us has, you'll have to leave a comment to get me to tell who is thinking about it and who isn't. It will cost you 5 comments for the answer.
I already have the Verizon guy coming on the morning after closing for the phone, TV, and Internet. I think I'll round up more people to come do their stuff before we move in all kinds of furniture and boxes for that same time slot and get it all done at once.
Enjoy the photos.