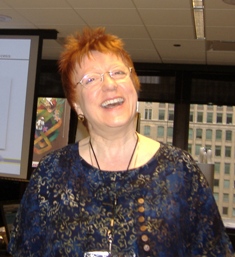 Lorelle VanFossen
Taking your Camera on the Road
Blogger and Podcaster Magazine
WordPress is Lorelle's domain. She publishes over 21 articles per week on several blogs and print magazines. We had a quick question and answer session to explore some definitions of blogging, and now we're working on defining our business with 6 points:
List all the words that describe your blog business.
Who's going to love what you do?
What reasons do you have for wanting to do this?
Using these words, summarize what you do, whom you sell to, and why you are doing it.
Mark the key elements in order of importance.
In "10 words or less," answer the question: What do you do?