Sorry for so many posts in a row about American Idol. It's time to write something for once, but I've been working all day every day doing my design work for clients. Thankfully, I've got work that I can see all the way through April as far as projects go. I won't be working all day every day between now and then, but work is still trickling in consistently enough that this venture looks like it's going to work.
About a month ago, I finished a site using Darren Hoyt's Mimbo Pro theme for Inter-Disciplinary in the U.K. for Dr. Rob Fisher. The site has over 1,600 pages (that's not a typo) and needed some server intervention to allow the WordPress pages.php to load without a white screen of death in the dashboard. Wild! We ended up using a javascript menu tree in the left sidebar, but it does tend to crap out in Internet Explorer, which he was okay with since no one should be using that stuff anyway.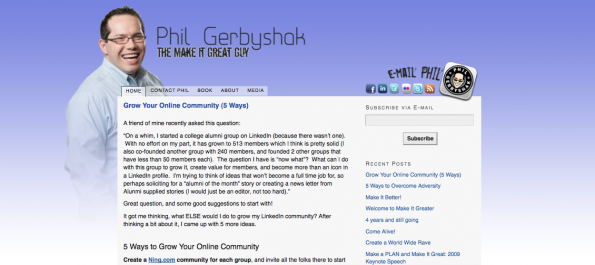 Last weekend was an exciting time as I launched Phil Gerbyshak's new site using Thesis by Chris Pearson as the framework. It was my first time using Thesis and it was like re-learning theme design all over again, but now I LOVE using it. That project stretched my CSS knowledge to the max and I often spent 4-6 hours figuring out how to implement the design in my head, but I came out on top with ridiculous skills that I can use on other sites now.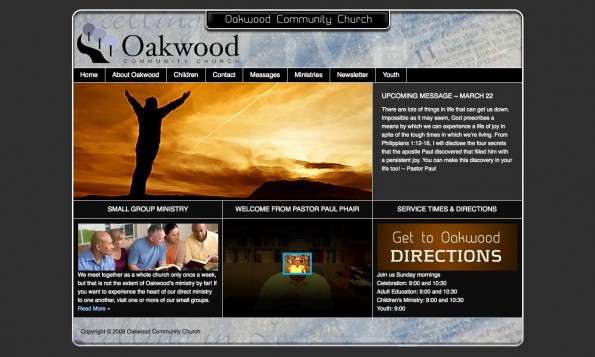 On Tuesday, after months of office and personal frustration with my church's website theme that I installed last February, I decided it was time to pull the plug on that theme and do a quantum leap to the latest and greatest one company has to offer with Church Life and get the Oakwood Community Church site going with something kickin', modern, and functional. They've started with Facebook and using video communication, so this was the perfect time to get something to allow that to happen with minimal training and (hopefully) little or no assistance from me to make them look like web pros.
After more than a month in development for content and graphics, I wrapped up FT Press's newest division and launched FT Press Science today. I used WP Remix for this theme, which looks really good, but I do not recommend it for people who do not have patience or pretty advanced CSS skills due to the vast number of CSS and PHP template files (in the neighborhood of 100 files) that tend to override each other from time to time.
That's what I've been up to, and I have about 5 sites on the calendar for the next couple of weeks, so I think that my portfolio will begin to round out nicely with a good variation of clients, themes, and content to show my design and customer service skills. Here's to the future!