Hey folks! I'm sorry for the delay, but I've been down with the flu this week. I did manage to watch our favorite Spring show and work out my thoughts on the performances. Due to the complete disregard the miscreants over at "That Site Which Will Remain Nameless," I am giving my rating prediction and my "what I think will really happen because the voting system is busted."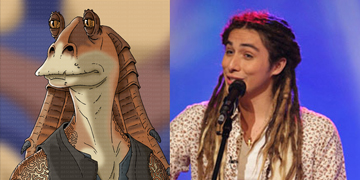 My wife thinks, and we'll all have to agree, that Jason Castro looks like Jar-Jar Binks from Star Wars. It really only comes across this obvious when he pulls his hair back, so keep your eyes peeled. He'll do it again.
Since I'm short on time and energy, here are my girls' picks:
Actual prediction: Kady Malloy and Ramiele Malubay
Wishful prediction: Kady Malloy and Brooke White

Luke Menard – 9.0
Bad song choice. I'm not even sure that song was in the top 500 Billboard Hits for the 80s. Great voice, but that was dang karioke-like. Go buy some personality.
Simon says: I didn't like it. It was a bit girly [ed. UMMMM… WHAT THE HECK IS DANNY!!?? Full-blown pansy freak-boy getting voted through for being the worst!]. You won't make it to the Top 12 and no way will you win it.
David Archuleta – 9.5
Phenomenal vocals again, but it was a strange song choice.
Simon says: It wasn't as good as last week. Stay at the piano. You're starting to get a bit gloomy with your song choices. You're probably going to be in the finals, but it will be depressing.
Danny Noriega – 5.1
I'm done trying.
Simon says: It was horrible. The whole thing: the arrangement, vocals, the whole thing.
David Hernandez – 9.3
Great song, arrangement, vocals… omg! The vocals were hot!
Simon says: It wasn't as good as last week. I like the soul songs better. 100% secured place in the Top 12.
Michael Johns – 9.3
Excellent song for him, but I just don't think it was the best arrangement.
Simon says: I liked it. I loved it. Huge talent. You still haven't connected with the right song.
David Cook – 9.5
Good rock song. A bit pitchy.
Simon says: That was a very brave thing to do… and I… loved it. Lionel Richie will be proud when he hears that.
Jason Castro – 9.7
Boring, but good vocals. Pick a better song.
Simon says: It was absolutely brilliant. One of the best of the night.
Chikezie Eze – 9.2
Boring… good vocals, but another strange song.
Simon says: Was that a Whitney song? Yes? Then I didn't like it. More cabaret than last week.
Actual prediction: Luke Menard and Chikezie Eze
Wishful prediction: Luke Menard and Danny Noriega