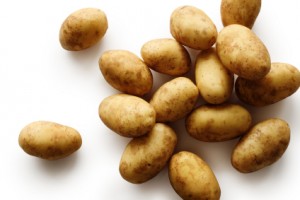 We had the whole local family over for Easter today and watched the Masters. Games didn't work because everyone was too tired to actually move to go play them, which I was fine with since I was the one napping on the carpet like a dog on a lazy day. What I'm most excited about was my successful first batch of mashed potatoes. I have it from a reliable source that it was the first time a certain someone ever took seconds of mashed potatoes, so they must've been as good as I thought they were. I thought they were tasty, run of the mill. I'll let you decide because I'm going to tell you how I made them.
Jesse's Supremo Mashed Potatoes
4lbs of potatoes
1tbs garlic powder
1tbs onion powder
1/2tbs salt
1/2 tbs Italian seasoning
1/2 tbs basil
butter and milk to consistency (1/3 – 1/2 cup milk and a couple of pats of butter)
Peel the potatoes and cut into 1″ cubes into a large pot and boil until soft when poking with a fork (15-25 min). Use a good old potato masher to mush it up and leave some chunks if that's how you like them. Whipping later won't really rid it of all chunks if you leave them there at this point. Add the seasoning, butter, and the minimum amount of milk and whip with a mixer on low until you have a good whipped consistency, then crank it up to medium. Mix for a minute or so and add season more to taste if necessary. Serves at least 8-10. Add cheddar cheese to the top and bake leftovers in the oven at 350 until the cheese melts for twice-baked potatoes.
Trust me–it almost doesn't need gravy (can't NOT do holiday gravy, man!), though I love my salt and pepper and added as I usually do at the table.