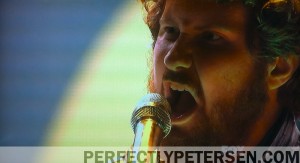 There is a flu going around the American Idol mansion with 12 contestants in Season 10 remaining. It's best to get the flu early and make it through to the next round while there is a greater probability that someone will royally stink up the place with their song choice or performance without the flu and then let someone get booted because they stink with fewer people remaining because they got the flu late. Last night, it looked like Casey had recovered from whatever put him in the hospital, but Paul, Lauren, James, and Pia were all affected in some way.
I voted last night based on some strange mix of how awesome they were last night and how much I want them to stay in the competition. I left those with raw talent up to those with a sure-fire fan base (Pia Toscano and Jacob Lusk) even though I didn't care of last night's performances from either one. Seriously, did the judges zone out on Jacob's last 15 seconds and miss the same dog-howl notes that I heard loud and clear? If you're going to pile on the pitchy for 4 others, you have to lay it on him, too. I'm an equal-opportunity pitchy judge, especially when I didn't hear it from 2 of the ones they dug into for that singing sin.
I watched Casey Abrams performance 6 times just because I'm a Smells Like Teen Spirit glutton for punishment and just now loaded up some YouTube love for him while I'm writing this. I also played back Paul's performance one more time before moving on to other DVR programs of my fancy. I have to respect the contestants who 1) know themselves 2) know their music history 3) combine the two into a great show. Those were the people I voted for with my text plan as follows:
Casey Abrams: 15 votes
Lauren Alaina: 6 votes
James Durbin: 5 votes
Scotty McCreery: 4 votes
Paul McDonald: 3 votes
Moving on to the bad performances/impressions/songs of the night. I know, that's why you REALLY come here, so I won't leave you hanging any longer. It was hard for me to limit myself to 3 picks. Correction, it IS hard  – considering that I'm writing this on the fly and removing the better ones if I come up with a worse one. How's that for how bad the entire lot was?
Haley Reinhart – She won't be able to recover from all of the things that went wrong: singing a "Whip Me" Houston song, those awkward tights, and her epic lipstick malfunction. The camera crew doomed her when they cut in close enough to see 3 smudges on her face and lipstick stuck between her teeth. It was so bad, it looked like she'd just had a 2-hour make-out session and forgot to tidy up before coming home to awaiting parents. It was nice of Ryan to come out to dab some away, but the damage was done.
Karen Rodriguez – She didn't do anything to change anyone's mind about her from last week. She's still some sort of Latin ambassador or poster girl in my mind. Her whole notion (egged on by Jennifer) to switch between English and Spanish lyrics is getting old. It's one thing to sing a popular (J-Lo or Shakira) song completely in Spanish and another entirely to appeal to or appease people by switching in the middle of the song. Have some substance to your performance next time, okay?
Stefano Langone – I still can't get past seeing Matthew Broederick on stage. He's just "okay" ever since Hollywood week.
Thia Megia – Girl, you've gotta know who you are. Enough with the ballads. I think we have another David Archuleta case where the parents are picking the songs.
Naima Adedapo – She's still bothering me by hanging on there. Tina Turner, she isn't. Bad song choice for her.
My picks for the Bottom Three: Haley, Karen, and Naima.
Going home: Haley Reinhart. You just can't sing Whitney Houston AND smear your lipstick all over and still expect to stay. It's never a good thing when the judges lead with how good someone looks – that means they don't have anything else nice to say.