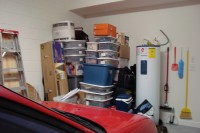 The big pile of stuff in the garage corner has been driving me crazy for, like… a whole week now. Yeah. It was time to do something about that. Gorgeous and I went out in the stifling 90-degree, 95% humidity weather yesterday and stood there and looked at the walls, the water heater, garage door railing, and measured all of our boxes to come up with a plan.
So much for a plan when you hit the isles at Lowes or Home Depot, right? That is when you realize what you have to work with and how much it's going to cost. At least we had the measurements for the boxes, so we could figure out the linear feet we had to accommodate. After about 90 minutes of hemming and hawing and going back and forth between opposite ends of the store and picking up about 20 different types of screws and drill bits, we had our loot.
2 6′ x 16″ boards
1 6′ x 20″ board
3 20″ heavy duty braces
8 15″ heavy duty braces
1 box of 75 masonry/lumber anchors
1 box of 75 3/4″ wood screws
1 masonry drill bit
Today's project started off well enough, as I measured along the back wall by the water heater and started marking up the drilling spots. I tapped and knocked around to find the studs and was happy with the spacing of the braces based on the weight of the boxes for that shelf. Time to drill the first hole; nothing but drywall. Crap! I started knocking around some more and guessed that the stud was about 2 1/2″ to the left of my first attempt, but the others still checked out by ear.
"Do we drill again, or do you go get a studfinder (other than you)?" I asked, since she already knows how to find a stud. /grin
So, off she goes to borrow Dad's studfinder and I started on the side wall with the masonry to avoid any need for such silliness. Who needs studs anyway? I marked off where I wanted the 4 braces to land on the 6′ board and put up the marks on the wall and started drilling. Dang! That is hard work without a hammer drill. Christmas gift hint, hint. All but one hole went in. There was something about an inch into one hole that was impenetrable and stripped the whole rather than the screw boring through it.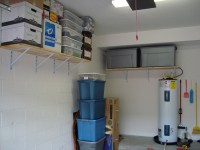 I don't think I've ever seen My Precious so happy with my skillz before. I will admit it looks pretty good. So I decided to get back to the back wall and confirmed that my second guess for the stud was correct and my other two braces were marked spot on. That shelf went up much faster because going through wood was like going through butter compared to the cinder block.
We've got both shelves loaded up, but I ran out of steam to do the third shelf today. I think I can get it done tomorrow after work, but I do need to make sure I get my homework done for Tuesday. I already wrote about it (see Waiting Room Humor: I'm Here for a Hearing Aid), so the observation paper should flow easily. Oh, and here's my "new" iBook sitting on the spare side of our desk.